My daughter, Kathy, said "Hey Mom, let's do dinner on Saturday night after work. We can relax, eat -in, hang out." Yes , yes, yes! Spending time with my daughter and sharing a delicious healthy meal is fantastic.
This set my creative juices going to create something easy, delicious, and healthy for dinner. I decided on baked sweet potato, quinoa & greens cakes, and salmon.
Kathy was working all day, so I got to experiment with creating the quinoa cakes.
Why quinoa cakes?  The ingredients were on hand.   I do have to cop to something: I always have a lot of fresh food around, and the dry staples, like quinoa.
Community Supported Agriculture (CSA) Shares, or trips to the local farmers markets, are a superb way to have fresh local foods in your kitchen every week. Yes, there are winter CSA Shares and Farmer's Markets. Local Harvest and Organic Consumers Associations (OCA) 's state lists, are wonderful resources and guides.
I like to create meals based on the produce in the weekly CSA share, bimonthly meat share, and purchases from my local farmer's market.
This is a really well balanced recipe for the winter months. I'll lighten it up for the summer!
Dinner Cakes ~ Quinoa & greens
 Ingredients I had around and decided on:
Fresh kale & red stem chard – about 4 cups when all chopped (finely)
2 medium eggs & 2 small ones (different sizes came in the egg share) – scrambled
2&1/2 cups cooked quinoa
1&1/2 tbsp. goat cheese crumbled & mixed with 1 tsp. nutritional yeast
1 large yellow onion finely chopped
1 tbsp. minced garlic
1 tsp. ground sea salt
2 tsp. turmeric
1 tsp. cayenne pepper
½ tsp. ground black pepper
¾ cup finely ground kasha (buckwheat) – in place of breadcrumbs
2 tbsp. olive oil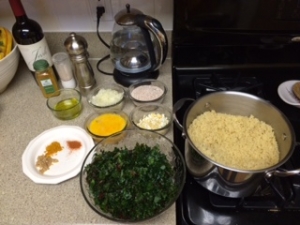 Preheat oven to 350F. Sauté the onions & garlic for about 5 min. Add in the chopped greens and cook for another minute or 2, 'al dente', not mushy.   Set aside to cool a bit.
In a big bowl, mix together the cooked cooled quinoa, scrambled eggs, cheese & nutritional yeast, olive oil, and all spices.
Once the greens mixture has cooled to the touch, add it to the quinoa & egg mixture, mix well. Add in the ground kasha & mix well. Again.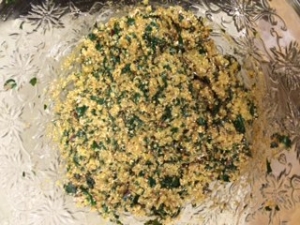 Form 2 tbsp. of mixture in hands into a small patty shape. Place only baking sheet. I used a pizza stone. It worked out well. Avoid a dark baking sheet; the cakes may burn before fully cooking.
Cook for about 25 minutes. I checked mine after 20 minutes, and found they needed another 5 min.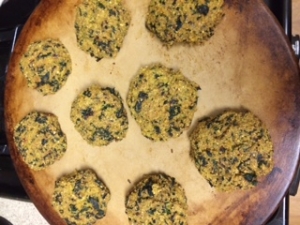 Serve warm or cold, with a favorite topping.
We enjoyed ours with salsa & avocado.
What would you top your quinoa & greens cakes with?